By far the most frequent call we get from customers is they try and close their garage door and it goes down a few inches and then goes right back up. Most of the time people who live in Renton, Bellevue, Maple Valley, Newcastle, Kent, Issaquah, Sammamish and even Seattle call me and ask for help. The good news is for the most part it's easy to get your door down.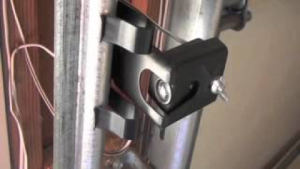 When the garage door is in the open position and it will only go down a few inches when you hit the wall button 99% of the time that means that the garage door opener photo safety eyes or safety beam is either blocked or misaligned. The garage door safety eyes MUST be pointed in the same direct and "seeing" each other for the garage door to go down.
The first thing you want to do is make sure that there is nothing in front of the eye's blocking them. If it looks like there is nothing blocking them then check to see if they are not properly aligned or pointed directly at each other. If it looks like they are pointed directly at each other check to make sure both sides have a solid light on the safety eye itself and that light is not blinking or off. Even the slightest misalignment could make the safety eye go out. If you have tested everything and the door still will not go down, the next step is to override the safety eyes.
By pressing and holding the wall button down until the door hits the floor will override the safety eyes. If it does not work the first time you try it, try it again. It's important to remember that the wall button is the only button that will get the door down if the safety eyes are misaligned, the door will not go down with the garage door remotes or outside key pad.
If you are still having trouble getting the door down call Sound Door Services in Renton, WA and we can try and talk you through the process or make an appointment to come out.
Good luck and stay safe.